Ok, I stumbled onto an interesting website today.
Master of Malt is a company that has been around since 1985 as a brick and mortar and have since jumped into the Web with both feet.
Looking at their site, they have it all, which is great for me…as a guy stuck in the middle of nowhere MO.  As an example- More than 30 different styles/ages of Laphroaig.  Talk about a tasters dream.
Not only do they have a broad selection, they also have some great history/trivia on each distillery.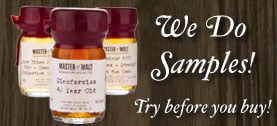 While the above two items would make any vendor a viable candidate for my business….it's the fact that for a large number of their products, you can buy samples. Prices can vary based on the product ($5 to $150 for 30ml), you still get a chance to try some of the rarest and finest whiskies of the world.
How about we all pick one to start and have a group review (virtually)?  Who's in?  THIS is my vote.