This is Part 2 of a recent experiment, one that puts to the question "What would people think if given a cigar with no band and no back-story/idea of what it was?".
So, following Randy's excellent review in Part 1, we now go again to our friend from  MySideoftheBar  to find out what he thought of Cigar 2-
Temp 89, Humidity low
Before light: Aroma, Tobacco and earthy

Shaggy Cut which made for a very easy light as you would expect
Easy Draw and a full body cigar
First 1/3
Great taste, nutty, woody or earthy
Second 1/3
Still nutty, woody or earthy but with a hint of spice
Still a great taste
Last 1/3
Spice, almost sweet
Not hot and still a great taste, could have used a roach clip to smoke every bit of this cigar.
Parings:
Would be great after a steak dinner and excellent with either bourbon or scotch, especially a smoky scotch.
4 out of 5 stars for me as this was more my type of a cigar
Problem only 3 out of 5 stars for a beginner
Again, excellent write-up.
So, what was the cigar that Randy sampled?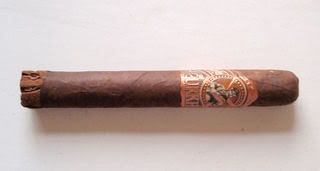 I went with the Toro Maduro and this is a staple in my Humidor.  Gurkha has quickly become one of my favorite brands, and as Randy pointed out, if you like a "heavier" smoke….I would check them out.
I also wanted to throw a quick blurb in here about
Bestcigarprices.com.  The last box of Shaggies that I bought was through them.  MSRP is $190, but they have the price slashed to $125.95.  This is a great deal, and I can only say wonderful things about this company.  Shipping was fast, complete and the whole process was painless.  This was my first order with them, and there is always that first buy apprehension.  I won't have that in the future and would highly recommend them to anyone looking to shop online.  Great job to them.
That wraps up this series.  I am looking for others willing to take a chance….if interested, drop me an Email at edbellmcse@gmail.com.
Cheers and Smoke'm if you gott'm.